The Mobility program at Revved Up is an adapted exercise program designed to provide weekly community-based physical activity opportunities to adults (18+) with a mobility impairment.
What is the program like?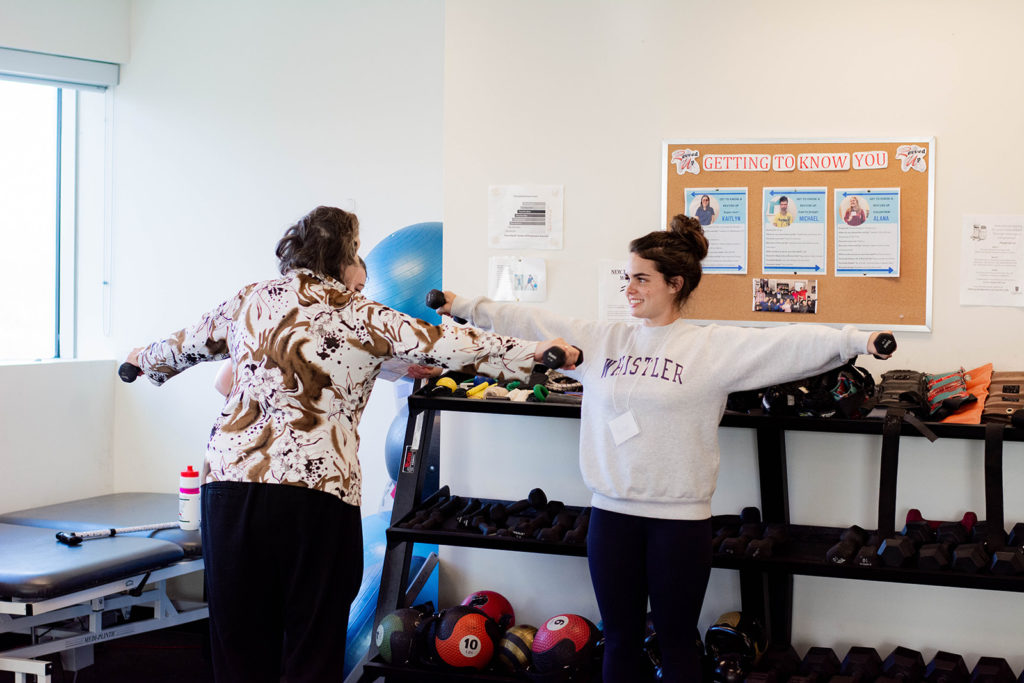 Your First Session
The first time you come into Revved Up, you will be greeted by one of our certified personal trainers. They will work with you one-on-one to develop your personalized fitness plan.
Following Sessions
After your fitness plan is developed, you are invited to attend two hour-long exercise sessions each week. During these sessions, you will be paired with a trained student volunteer who will offer exercise support, encouragement, and company.
Revved Up has made a great impact on my life. I enjoy the program and find that it has helped me to do things in my day-to-day life. I really love it. The volunteers are great and make me motivated.
Program Schedule Options and Hours of Operation

Monday & Wednesday

1:00pm – 3:00pm

5:00pm – 7:00pm

School of Kinesiology and Health Studies

28 Division Street

Tuesday & Thursday
5:00pm – 8:00pm

Providence Care Hospital 

752 King Street West
The Mobility program at Revved Up runs year round.  We are closed during statutory holidays, for two weeks over the December holidays and for one week during February that corresponds with the university's reading week. 
Mobility sessions on Monday and Wednesday take place at the School of Kinesiology and Health Studies. 
The Revved Up gym is located on the 5th floor of the building. Upon entering the building, go through the set of 4 doors and head to the elevator. Take the elevator to the 5th floor and Revved Up will be on your left.
Mobility sessions on Tuesday and Thursday take place at Providence Care Hospital.
The physiotherapy department at Providence Care hospital is used for Revved Up. Once you arrive at the main entrance of the hospital, enter, and turn left. The entrance to the physiotherapy department will be on your left. The front desk may also help you.
Participants are welcome to attend the Mobility program once or twice per week. 
Payment occurs in 4-month blocks year-round. Payment occurs in person at the Revved Up program at the beginning of each block. The cost for each block is $80.
Block 1: January – April
Block 2: May – August
Block 3: September – December
Participants can enroll at any time throughout a block. The payment will be adjusted accordingly.
To join the Mobility program, please fill out the enrollment forms found here. Forms can be returned in one of the following manners:
Via email to revvedup@queensu.ca

Mailed to Revved Up, 28 Division St, Kingston, ON, K7L 3N6
Upon receipt of the forms, the program coordinator will review and contact you with any questions or an offer of admission into the program. For additional information, feel free to contact the program coordinator.