The Mobility program at Revved Up is an adapted exercise program designed to provide weekly community-based physical activity opportunities to adults (18+) with a mobility impairment.
What is the program like?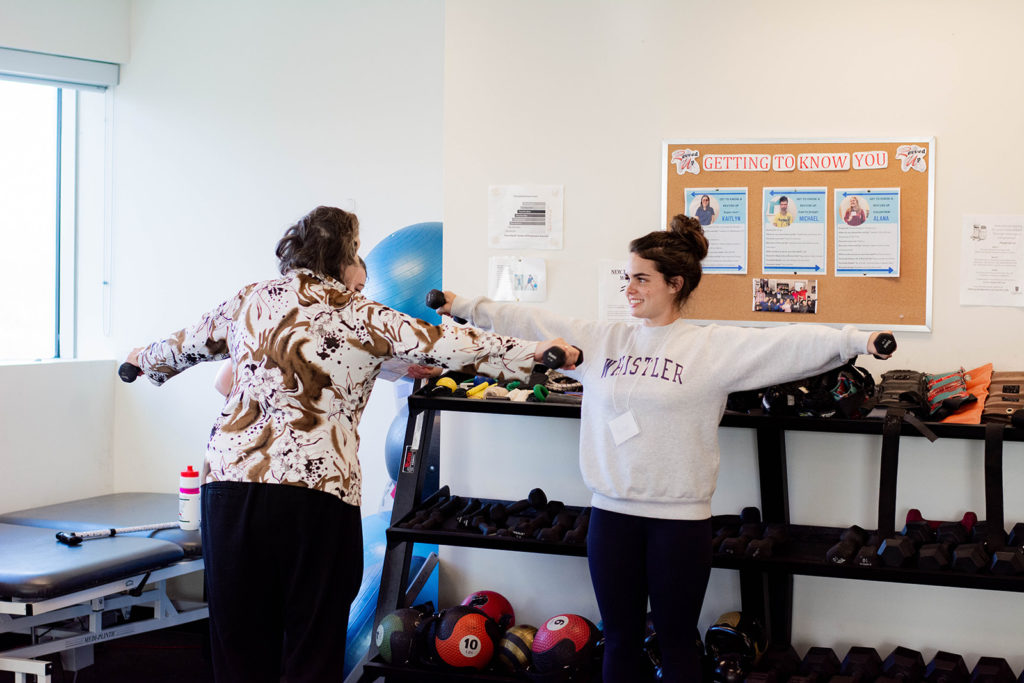 Your First Session
The first time you come into Revved Up, you will be greeted by one of our certified personal trainers. They will work with you one-on-one to develop your personalized fitness plan.
Following Sessions
After your fitness plan is developed, you are invited to attend two hour-long exercise sessions each week. During these sessions, you will be paired with a trained student volunteer who will offer exercise support, encouragement, and company.
Revved Up has made a great impact on my life. I enjoy the program and find that it has helped me to do things in my day-to-day life. I really love it. The volunteers are great and make me motivated.
Program Schedule and Hours of Operation

The mobility program at Revved Up runs year round. Typically participants attend twice weekly, 60 minute exercise sessions. Please contact Revved Up staff for program options and timing of sessions. We are closed during statutory holidays and for two weeks over the December holidays.
The Revved Up gym is located on the 5th floor of the building. Upon entering the building, go through the set of 4 doors and head to the elevator. Take the elevator to the 5th floor and Revved Up will be on your left.

Mobility sessions on Tuesday and Thursday take place at Providence Care Hospital. 
The Providence Care Hospital location is not currently offering programming. We hope to return in the future!
Participants are welcome to attend the Mobility program once or twice per week. 
Payment occurs in 4-month blocks year-round. Payment occurs in person at the Revved Up program at the beginning of each block. The cost for each block is $80.
Block 1: January – April
Block 2: May – August
Block 3: September – December
Participants can enroll at any time throughout a block. The payment will be adjusted accordingly.
To join the mobility program, please contact the Revved Up program team at 613-533-6000 ext. 79283 or revvedup@queensu.ca

Upon receipt of the forms, the program coordinator will review and contact you with any questions or an offer of admission into the program. For additional information, feel free to contact the program coordinator.